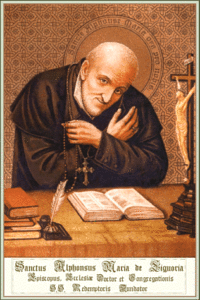 Listen to the Podcast!
What is the Method of Meditation of St. Alphonsus Liguori?
The Method of St. Alphonsus consists of three parts, which are themselves, subdivided in different stages:
Preparation.

Act of Faith in the Presence of God, and of Adoration.
Act of Humility and of Sorrow for our Sins.
Petition for Light.

Meditation.

Reflection on a subject matter pertaining to our Sanctification. St. Alphonsus particularly recommends the Passion of Our Lord.
Affections.
Resolutions.
Petitions.

Conclusion.

Give Thanks to God.
Make a Purpose to fulfill the resolutions made.
Ask of the Eternal Father, for the sake of Jesus Christ and Mary the grace to be faithful to these resolutions.
EXPLANATION OF THE METHOD OF MEDITATION OF ST. ALPHONSUS LIGOURI
For more details, listen to our Podcast Episode: